The Healthy Homes Seminar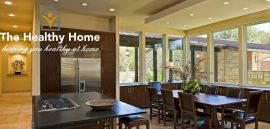 We have developed with local doctors the Healthy Homes Standard©, a new standard for building homes with the health of the family living in the home the primary goal. At the Healthy Homes Seminar, we will discuss the various aspects of how to build a healthy home.
The Healthy Home boasts clean air (near hospital-quality air), clean & toxin-free water, and special lighting, noise control, healthy living, and other attributes in your home to provide you and your family the healthiest living environment possible.
How is the Healthy Homes Standard© met?
By following the necessary procedures to ensure cleanliness during construction and promoting dust-free areas behind the walls instead of trapping dust and dirt inside the walls.
By using toxin-free chemicals on surfaces that might retain and release those toxins on the family later.
By ensuring good design that promotes cleanliness, good health, and includes specialized lighting design.
By including design elements that promote safety, universal design, and "Healthy Spaces".
By using advanced technology to monitor and control the quality of the home's systems, ensuring good health is always facilitated.
Seminar Length: Approximately 40 minutes
REGISTER NOW to learn more about this seminar ($5 per person charge at the door to cover expenses).
Back to the Luxury Homes Austin Seminar Series
To read more about the Healthy Home, check out the The Healthy Home Builder page.