Looking for the perfect Austin architect for your dream home? We know that building your own home is a significant investment, both financially and emotionally. That's why we believe that good listening skills are crucial for a Residential Architect. You need someone who not only listens but guides you through the process of creating a home that's uniquely yours.
At our firm, we understand that your home is more than just a building. It's a reflection of your personality, taste, and style. That's why we're dedicated to working with a project team that shares our love for detail, timeless style, and construction that lasts. We treat your home as if it were our own, and we'll work with you every step of the way, from the initial vision to creating the plans to the build and beyond.
Architecture in Austin is unique, which is why most architectural firms look to understand its history and context. A design and construction process that honors the history and natural resources of Austin, Texas, while creating the perfect custom home is the epitome that Austin architecture firms should live up to. Award-winning designs that offer a modern and fresh perspective on Austin architecture while also respecting a client's budget and vision of the perfect home are what the residential architecture industry in Austin, Texas is all about.
Native Materials with Innovative Design
Influenced by local materials such as native white "Austin" limestone and local "Marble Falls" granite, Austin Residential Architects were traditionally influenced to create a vernacular locally referred to as Hill Country.
It started at the Texas Capitol Building, which is faced on the exterior largely in locally-sourced Marble Falls granite, representing Austin architectural trends of the late 1800s. This is what the locals call "pink granite." It then moved to local white limestone, which is today used for most exterior facades in Austin, TX, in both commercial projects and residential architecture.
Today, residential architects mix it with other stones and brick and even cut it into different patterns to update the look. Architecture firms in Austin, Texas, look to honor this history in the design process. A beautiful costume home should incorporate native materials with a creative and innovative design that is as unique as the family that calls it their home.
Cultural Influences on Austin Architecture
Traditionally, Austin Architects have also been influenced by local culture. Nearby Austin, there are several Germanic small towns like Fredricksburg and New Braunfels. Settled originally by a strong German community, the influence of much of small-town Germany can be clearly seen in their local architecture. Certain techniques have also contributed to the local architecture, such as the "German smear".
Austin's German Smear Architecture
This is a technique where the mortar is smeared over the top of the limestone to create a cross between stucco and stone appearance. These local towns have influenced Austin's architecture as well. This is particularly evident in the farmhouse vernacular, which has become so popular lately. The large boxy appearance of the farmhouse architecture closely mimics the Germanic style. Only missing is the local stone on the facade and the years of wear.
Also worth noting is the symmetry and clean lines of the Germanic influence on local architecture. Clearly seen in the farmhouse style, this can also be seen in other architectural styles as well.
Mediterranean & Spanish Influences in Austin Architecture
Austin, Texas, is beautiful and unique in that it's one of the few cities in the United States where you can experience architecture with influences from around the world. If you were to peek into the architecture portfolio of the top residential home designers in the city, what you would see are beautiful custom homes that bring the art of worldly and cultural architecture to life. Take, for instance, the more modern stucco appearance of a limestone facade that breathes traditional Spanish architectural influences or the barrel tile roofs and broad archways that welcome a person home with Mediterranean flair.
In today's modern architecture of Austin, Texas, we see how designers infuse these influences in the scope of their contemporary design and how with close attention to detail, it's carried throughout the construction. In many custom luxury homes, these various cultural influences are displayed within the interior design as well.
Austin Luxury Home Architects Place Value on Healthy Homes and Sustainable Design
The city of Austin, Texas, has long been a pioneer in green building and sustainability initiatives. As a movement that started in the 1970s, the evolution of Austin's commitment to sustainable and green architecture has been one that has put the city on the map for individuals and families that yearn to live a more comfortable, healthier lifestyle.
Innovative Home Design Adds Value to Green Spaces in Austin, Texas
An example of sustainable design in Austin architecture can be found in the Mueller neighborhood, just a few miles north of the downtown area. Mueller is a mixed-use community that has earned the designation of being one of the greenest communities in the United States in regard to green spaces and home construction.
In this Austin neighborhood, more than 20% of the area is devoted to parks and green spaces. Austin architecture firms understand the value of a sustainable design process and how luxury home construction can support green initiatives for a healthier, more beautiful Austin, Texas. When this level of knowledge is combined with respected builders of contemporary homes, we create communities that residents of Austin, TX, are proud to call home.
In our communities that have been master-planned to protect, beautify, and enhance the environment, it becomes even more important that luxury home architects work as partners with clients and builders, sharing their expertise in building houses that blend perfectly into the natural surroundings.
Healthy houses and sustainable design aren't beneficial just to the community as a whole but to each individual and family that resides there. Clean, green construction uses less energy but also enhances lives with a modern design that creates a cleaner, less toxic atmosphere. Austin architects visualize the scope of positive mental and physical health benefits of investing in modern, green, luxury home design.
Homes Designed for the People of Austin
There's no place in the world like Austin, Texas. The culture and lifestyle here are just different from other major metropolitan areas, such as Dallas or San Antonio. The pace of life is different, the attitude is different, and our residential communities stand out from the rest. The top Austin architecture firms understand that Austin residential construction requires a different approach, and it's one that's specifically tailored to the unique lifestyle of each of their clients.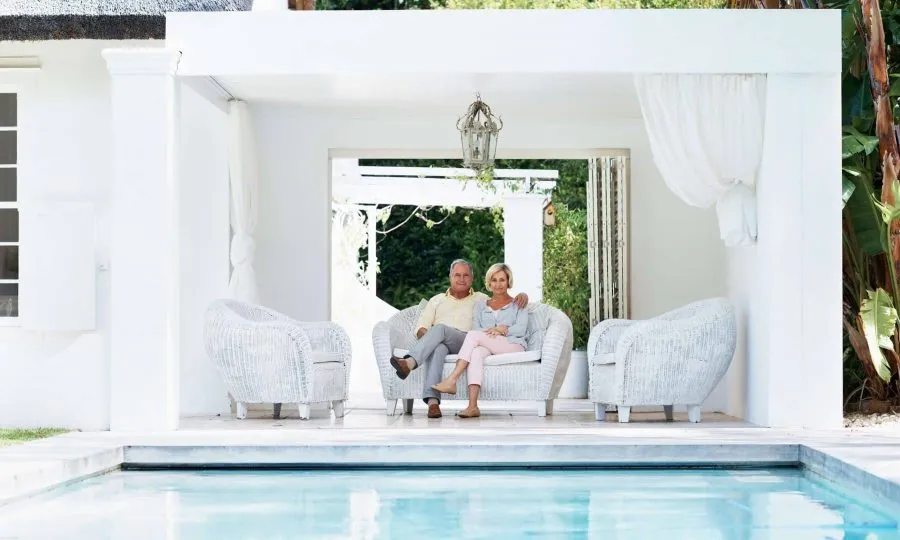 When a client approaches an architecture firm to design their dream home, the first detail is understanding the intimate details of the client's lifestyle. How do they spend their time at home, how do they want to feel when they walk through the door, and what type of impression do they want their home to make? Our homes are our hearts, and it takes a deep level of master planning for architects to infuse just the right details into each residential project that turns a brand-new luxury house into a cozy family home.
The next step is for the architect to work with the building team and consultants to ensure the final project is created in line with the client's vision for their luxury home.
Understanding Austin Architecture
When we understand the history and origins of Austin's architecture, then and only then can we create new structures that seem to fit the area. There's no worse architecture than a structure that clearly does not belong in its surroundings. A good architect will always start with an understanding of the local architecture, both its origins, and history, before designing a home for that area. There are even stories, legends even, about Architects who slept overnight in a tent on a site before designing a home for it. While inspiration does not come solely from a site's surroundings, it does have a strong influence on it.
It is also worth noting that local materials and local architecture go hand in hand. The reason is efficiency. It is both cost-effective and timely to use local resources for constructing local architecture. There are cost savings in shipping, especially when referring to heavy items such as stone and granite. Plus, natural stone from a local quarry, for instance, are always "in stock". So that makes them a quick ship item. That can be really important for a product that may take several months to install. A delay in these types of products can cause a delay in the overall project.
The Difference Between Working with a Separate Austin Architect and Choosing a Design-Build Team
There are many skilled residential architects and architecture firms in Austin, TX, but when choosing the design-build process for a custom luxury home, there's more to consider than a designer's or firm's architecture portfolio. When it comes to designing a dream home in Austin, TX, it's a combination of knowledge, skill, and an intimate understanding of what makes Austin architecture unique that will create success with each project.
Some clients set out to find the best architects and designers, and once the plans for their dream home are complete, it's then they find the custom builder that can take those plans and make them a reality. This is one approach to completing the project, but this can also come with frustrations, hassle, delays, and cost more overall. In our experience as design-build experts in Austin, TX, we have found that working with a cohesive team is what really creates satisfied clients.
For clients that are on the fence about how they want to approach the design and construction of their new luxury home in Austin, considering the full scope of the project and how teams work together are key.
Challenges of Working with Separate Design and Building Team
For clients, sometimes it starts with a good friend's referral to a residential home designer with an incredible architecture portfolio. The architect has designed impressive homes in Hill Country, and you want your home to be one of their next projects. Before signing on for their services and then separately choosing a home builder afterward, consider how this process differs from that offered by design-build services.
After decades in the design-build industry, these are the areas of frustration we've most often seen when clients choose separate design and building teams for their residential projects.
Expense
Clients looking to invest in their dream luxury home don't always realize the expense involved in working with separate Austin architects and builders. The cost of having a team of architects design a custom home isn't insignificant, but these costs can increase when extensive renovations to projects occur because the architects and designers aren't familiar with the location and space in which the house will eventually be built.
Time Delays
The most seamless approach to the timely completion of any luxury home project in Austin, Texas, is for the design firm and build services to be working hand in hand. When these two crucial services are working independently on the same project, it almost always comes with the additional cost of excessive time delays.
Communication Mishaps
When working with separate studio architects and builders in Austin, TX, there are bound to be communication mishaps. The designers and builders aren't working in the same office, and sometimes not even in the same city. The architect portfolio that catches a client's eye might be located in another city in Texas.
The problem here is that communication between those involved in the design and building of your luxury home needs to be open, fluid, and constant. When messages get missed, or communication doesn't happen at all, it opens the door to delays, failed plans, and higher project costs.
Building Mistakes
This is potentially the most frustrating and costly issue that arises when a project involves separate design and building teams. Architecture designers, no matter their level of expertise, can run up against design challenges when they're not directly involved with builders and the site location. This is especially true with custom homes in Hill Country, where the terrain is notorious for creating architectural challenges.
If there's a major design flaw that halts construction, it can end up costing tens of thousands of dollars, if not more, to fix the design and get the home back on track.
Benefits of Design-Build Services
What happens when you choose to design-build services like those offered by Jenkins? The quality of experience is unsurpassed, but it all boils down to a handful of targeted benefits for our clients.
One-Stop-Shop
Our clients are busy, and they want a team that streamlines the process and alleviates the stress of designing and building the dream house a family will call home. Design-build means we are your point of contact with no back and forth between separate teams. The experience is seamless, and the end result of the project is just as you envisioned.
Continuity
One of the biggest benefits of working with a design-build team is the continuity from the very first meeting with the client to the day they walk through the door of their new luxury home.
With a cohesive team working on the entire scope of the project, there's seamless continuity from one step to the next, and this can even go so far as working with an interior design team to help make every part of the client's vision come to life.
Working with a design-build team that focuses solely on residential homes in Austin neighborhoods, including Hill Country, also ensures that your home fits beautifully in the natural landscape. This is one of those not-so-small details that commercial or retail architects and builders often don't understand the finer nuances of.
Quick Solutions & Smooth Planning
What happens when a problem arises in the architecture or construction of your luxury home project? Are quick solutions offered that will prevent delays and extra costs? With design-build services, detailed planning of each step prevents many problems from arising in the first place. However, if an issue does come up, the team works together to quickly develop effective solutions.
Integrated Design
Finally, let's talk about integrated design. Each luxury home is master-planned by a team of creative, experienced architects that work side by side with the builders that will be constructing your home. The result is a true integration of design and environment. Interior design can also be considered part of the scope of the project. A great design-build team can connect you to an interior design team that will assist in making your new house feel like home for your family.
How Jenkins Is Different
Jenkins Design–Build is a team of architects and builders that work together to make your dream home in Austin, Texas, a reality. Jenkins offers decades of experience in designing and building contemporary, custom-designed luxury homes with a modern touch that undeniably beautifies Austin.
Unique architecture, luxury, and healthy homes are what we've built our reputation on for decades. Separate architects and builders can't provide the continuity and level of service that Jenkins Design-Build studio can.