20 Jaw-dropping Windows that'll make You the Envy of Austin
20 Jaw-dropping Windows that'll make You the Envy of Austin
Everyone who visits our office these days seems to understand the importance of large windows. Our clients usually mention 'big windows' in the first sentence or two when they're describing the new custom home they want to build. So it's not surprising that we have been pushing the envelope for bigger and better windows in the last several years. Windows and walls of glass seem to be the solution to lots of the older design issues which used to be a struggle. It has been so much fun to see this evolution, as we think it is long overdue.
The Importance of Amazing Windows
There are so many obvious reasons for designing amazing windows in a luxury home, but there are also lots of reasons which aren't so obvious. Plus, we've started redefining windows to include what we previously might have called a door. So, where we might have previously designed a window for airflow, we might now design a series of glass doors that can be left open for airflow. We hope you enjoy this collection of our favorite 20 windows, why they were designed in these spaces, and how they function and perform for the homeowners.
#1 Would You Like a View with That Window?
If a picture is worth a thousand words, then a window is worth ten thousand…and this one tells it all. The floor-to-ceiling all-glass window works really well in spaces like this one. Notice that it does not get the afternoon Western sun. Here in Austin, the sun orientation is critical to good window placement, and this particular type of window placement especially. If you can't tell, the best part about this space is how it makes you feel when you're in it. You literally feel like you're floating in the air when you're sitting or standing in the space!
#2 The Modern Motif
Certain types of styles call for certain types of windows, and the modern style calls for these windows. They're large, simple panes of glass set in steel for strength and durability. Due to their size, the glass needs to be particularly thick and is engineered to withstand winds and weather.
#3 Mix and Match
This Santa Barbara style home stands apart with its combination of different window styles. The arch top windows blend and carry around the courtyard while the downstairs windows provide relief with their straight rectangular shape. Notice, too, the cut stone which has been carefully-applied to certain windows but not others. The straight windows and windows with less trim work provide relief to the eye and allow the other windows to really shine.
#4 Warmth and Wood
Just as important as the windows themselves is their trim and treatment. Add to that how they will cast light into the space, and a well-done window transforms the space.
#5 The Lake Home
A combination of windows and doors that have been specified by the Architect to compliment each other, here, beautifully-frame the lake. By elongating the height of the doors with an arched window, it both captures the view and invites the light to pour in.
#6 Stacked Glass Windows
Normally reserved for commercial high-rises, this window style uses glass and only glass for both the windows themselves and the structural support of the windows. This allows for a much larger overall window.
#7 Industrial Windows
Speaking of commercial real estate, the influence of industrial spaces is clearly evident in many of our newer luxury home designs. Here is a great example of one of them.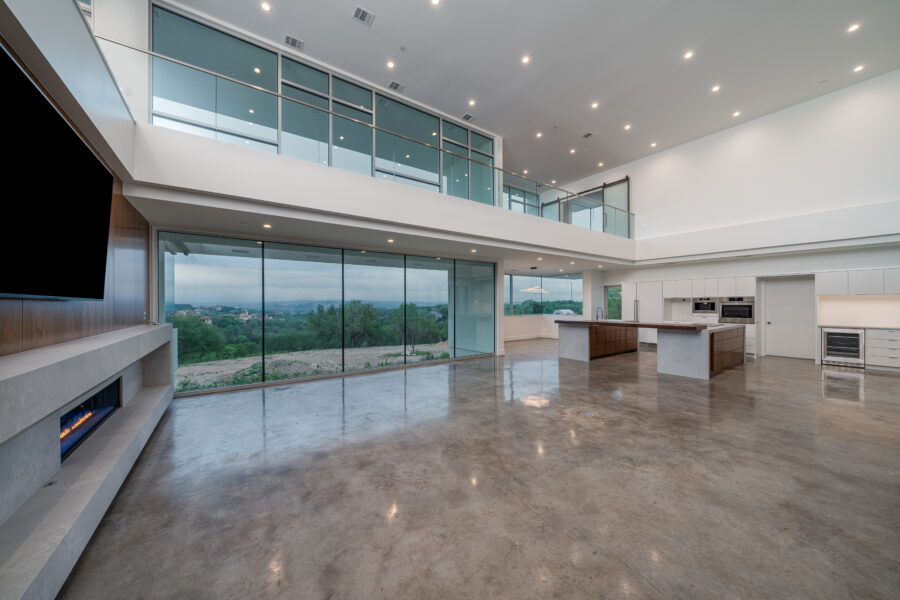 #8 Capturing the Morning
So much about windows is the orientation and placement. Here, the morning sun is beautifully-captured by a well-placed window.
#9 Inside/Out
There are plenty of situations where we now blur the lines between inside and outside. Here is a great example where it's hard to tell what is inside and what is out!
#10 Windows Double as Doors
Here are two examples of windows that also function as doors. The four-panel steel and glass door, at left, opens and stacks to the side when desired. The all-glass doors at the wine room provide a window to your favorite wines.
#11 Shower in the Sun
For those adventurous and nature-loving types, this shower opens up to the outdoors and lets the sunlight pour in. The teak wood in the shower itself helps to keep the space from being overly bright. The secret here is the question of privacy and how to achieve it. If you guessed 'steam shower', you were right!
#12 Rustic Contemporary
For that mountain-cabin feel that was just brought into the modern-era, we use these windows to achieve that look. We wanted both the view and the fireplace to be focal, and our clients were looking for the look pictured here.
#13 Windows with Doors
When any old door just won't do, spice it up with some amazing windows. Here, the steel and glass door is extended by the steel and glass window unit.
#14 Window Dressing
Just the right combination of materials, colors, and sizes combine to bring appeal to these windows. Even though they are very large, they don't over-power the front of the home. They bring in a lot of light and modernize the space without losing the charm of this Tuscan style.
#15 Balance and Scale
Just the right balance and scale, especially with a project like this one, brings sophistication to the exterior elevation.
#16 Let the Sunshine In!
What happens when we line the walls with glass? This! It's a sunshine-fest.
#17 Traditional meets Contemporary
This special window is designed to feel a bit more traditional but still provide lots of light.
#18 Smaller Windows
Smaller windows can still feel special, at least when they're designed to be that way. These high windows are meant to maintain privacy from the neighbors but still let the sunshine in.
#19 Walls of Glass
Walls of glass can be mixed with walls of windows. The most important consideration, here in Austin, is the Western afternoon sun. This entire orientation was based on the desire to capture the views and protect from the sun.
#20 Light from Above
Skylights and sun tunnels can also be used to allow light in strategically. In this one, we even installed a rain showerhead inside the opening to simulate a rain shower on a sunny day.
Windows can create so much architectural-interest and style to a space! They are simply the best way to bring shear joy, in the form of sunshine, into a home. We hope this trend continues, allowing us to develop new ways of using windows to create impactful architecture. Our clients tell us that their beautiful windows are among their favorite features. We agree!